1940-1945 the Netherlands; Nazi occupation, starvation, Canadian liberation.
1943 Nederland swan stamp issued while Holland was occupied by Germany. Children under 18 were forced to work as slaves in the Fatherland.


Harry Janssen an 'Onder Duiker' (escapee) was helped by the underground.

Shortages forced civilians in cities to smuggle food from farmers, eat stray cats, and theft.


Theo Verheul food coupon arrest, family break-up and survival during WW2.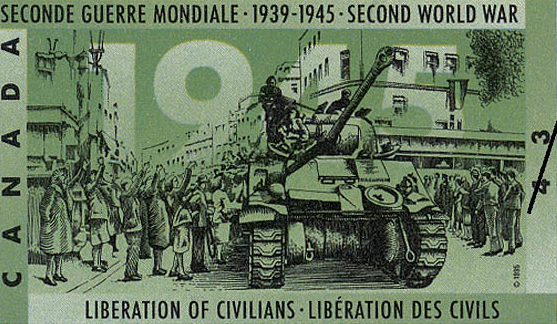 Canadian war stamps

The 1st Battalion, 3rd Canadian Infantry Division's Mike Hupchuk returned to Canada in 1946. His Dutch war bride; Diana Verheul emigrated 6 months later.


Hupchuk newspaper articles

The Royal Dutch East Indies Army (Koninklijk Nederlandsch-Indisch Leger, KNIL) 1947 - 1950. KNIL was part of the Dutch army since 1830. In 1941 the government of Nederland declared war on Japan. 3 months later they had to capitulate to the Japanese. The 1st and 2nd battalions of KNIL combined with units from the Dutch Army in 1947.



Sergeant Theo Verheul and Peter van Roomen served at Soerabaja, Indonesia.

1994 Nederland postzegels, Operation Market Garden; Allied food relief for Nederlanders.




Canadian military World War II newspaper articles.

---

TheoJanssen.ca home