Naber name origins: Ankum, Westfalen, Duitsland (medieval Prussia).
translated = neighbor or the occupational name for wheel hub maker.
Naber German Arms



18th century German emigration to Terschelling, Nederland.

Naber Genealogical databases from the Netherlands and Germany.
Johanna Elisabeth Naber, parents: Fredrik Naber and Ludina Nooij married 1902 Amsterdam Leonardus Gerstin, parents: Frederik Naber and Ludena Nooij.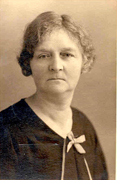 Naber, Gerstin, Verheul and Janssen iFamily web pages.

Johanna Wilhelmina Antoinette Naber (1859 - 1941). Dutch author of over 40 books and 300 articles about womens' labour.



Archivist and founder of feminist movement.

Naber English arms



Bernard Hermann Naber (1774-1859) and Anna, Maria Tegla (1784-1873) Hannover, Germany; emigration to Iowa, USA.

Iowa and Illinois, USA immigration from Terschelling, Netherlands.



Caspar Naber and Anna Lienesch c1762 database.

Oldenburg



Friedrich H Naber (1789-1842) and Anna Lucia Schroeder (1799-1881) Germany.

Germany



Friedrich Herman Naber (1761-1831) and Lucke Damcken (1765-1848) Oldenburg.

Stambomen Zuid Oost, Drenthe



Jan Naber born 1620 in Veldhausen, Duitsland died 30 Dec 1665.




Jan Naber (1875-1917) and Anna Den Haring. Descendant of Caspar Naber and Anna Lienesch.



Joannes Stoffels - Naber and Neeltje Braakman (1805-1854); married at te Hem, Nederland in 1827.
---

TheoJanssen.ca home