Television news clips of Theo Janssen's kiteflying.

March 23, 2008 AChannel News; 4 line Revolution stunt kite.


Great Western Park, Detroit River, Windsor shore.

August 17, 2009 CBC News Windsor; 6m² Blade foil kite and bar only.


Sandwich West / Holy Names Park, LaSalle, Ontario.

March 8, 2011 /A\ CTV News Globemedia; 7½m² foil; harnessed in.


Sandpoint Beach, Windsor.

---
Newspaper articles of my kiteflying.

October 7, 2008 Scott Webster.
July 9, 2009 Paula Trotter.


flying REV stunt kite and foil trainer at the Detroit River waterfront park on Riverside Drive.

October 30, 2009 Bob Stewart.


Sandwich West Park.

January 9, 2012 Jennifer Walker, Oshawa This Week.
January 26, 2012 Sabrina Byrnes, News Durham.


Whitby, Heydenshore Kiwanis Park, Lake Ontario.

---
Clips of my kite flying days.

July 8, 2007; 10 year old gets a new camera. 3m² Prism 2 line foil kite.


Longpoint Provincial Park

February 2008, foil kite with 4 lines and handles.


Gulf of Mexico, Florida.

January 8, 2009; snow scudding with 3m² kite.


Great Western Park, Riverside Drive, Windsor, Ontario.

February 17, 2009; RV'ing in Southern USA.


Red Coconut Beach Fort Myers, Florida.

Kiteflying with 3m² trainer, beach scudding with 7½m² harnessed-in and 10m² water launchable foil kites. Photographed by:
Domenico Lella; Sandpoint Beach, Windsor. April 2009
Brian LaMarsh; Great Western Park, Detroit River.
Clyde Woltz; Sandwich West Park, La Salle. 2010
Kevin Gilbert; Whitby, Heydenshore. 2012


music: Homewrecker by Michou.

January 14, 2010 Sandwich West Park, La Salle.

music: Squirtbop.


sliding with 7½m² kite and seat harness

photography: Rick Reddam.

---

TheoJanssen.ca home

---
kite flying resources:

Best Breezes.com; history, science and art of kites by Bob White.


Essex Kite Flyers; Southern Ontario 2003 - 2005 kite flying, kite building plans.



kite building plans


kitelife.com; static kite flying, archived magazines, information.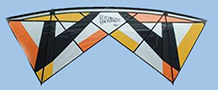 Revolution kites, 4 line stunt kites.


World Kite Museum; exhibits, festival, hall of fame.