Johanna Wilhelmina Antoinette Naber. Born Mar. 25, 1859 in Haarlem, died May 30, 1941in Den Haag. From age 18 to 26 she was a teacher assistant of French and English. In 1885 she worked at the Amsterdam Rijksmuseum School. At this time women did not have the right to vote and were restricted from higher education. Johanna was self-taught in archival research and literature. She has written about 40 books and over 300 articles. Her work focused on biographical studies of famous women; their lives and struggles. She was active in various women's movements.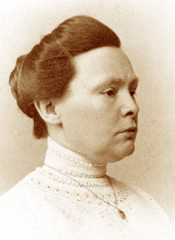 Dr. S.A. Naber family album

In 1935 Dutch feminists Rosa Manus, Johanna Naber, and Willemijn Posthumus-van der Goot founded the International Archives for the Women's Movement (IAV) in Amsterdam. They wanted to preserve the cultural heritage of women and information about the women's movement. After women in the Netherlands got the right to vote in 1919, interest in the women's movement seemed to decline. The start of the library was made by a gift from Rosa Manus: three hundred books from Aletta Jacobs, the first female doctor in the Netherlands.

In 1947, the IAV was reopened. After the war: books, photos, and files were discovered in Moscow and returned. Repatriation of the heritage documents took over 60 years. 2004 Journal Of Women's History - Francesca de Haan. International Information Centre and Archives for the Women's Movement; Aletta.
At the 1898 Netherlands National Exhibition J.A.W. Naber was thanked for her homage to women's work.


Naber genealogy