Jerry Verheul (1938 - 1988) Motor racing Crew chief
Jerry started his career in the 1960's. By the 1970's he was crew chief for Frank Hall's Fuel Dragster, Green Elephant; winning a World Championship. During the 1980's Jerry turned his attention to Unlimited Hydroplane boat racing; his engine designs created another series of wins. His contributions during the turbine changeover included prop changes and development of safe driver capsules.
In the 1979 movie; Fast Company, Jerry was the racing coordinator. The movie featured technically accurate Canadian drag racing and is noted for its driver view during a race.


©2008 image of Green Elephant dragster; from Bill Pratt at 70sfunnycars.com

Just before he died of cancer, Jerry returned to drag racing to work on a turbo charged fuel hemi dragster. In 2002 Jerry Verheul was inducted into the International Drag Racing Hall of Fame. His contributions to design and driver safety have saved many drivers' lives.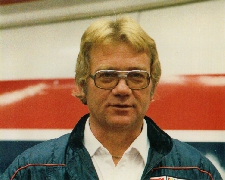 Verheul celebrities: Ad - Snoezelen therapist, Dirk Verheul bus company, Gordon - cinamatographer, Johannes - architect.