newspaper articles about Theo Janssen 1982 - 2013

June 1 Windsor Star report of May 31, 2013 Lobsterfest fund raiser for the Rotary Club of Windsor

 Roseland.


Chef Emil Houtteman with Century Secondary School OYAP students. I taught their parents 20 years previous.

Jan 26, 2012 Whitby This Week; Sabrina Byrnes.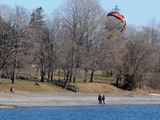 DurhamRegion.com Jennifer Walker; "massive kite that was elegantly floating through the clouds." Beach scudding with 10m² foil on Lake Ontario shore.

Oct 30, 2009 LaSalle Post "Foiled again!" by Bob Stewart.



flying 7.5 m² kite in Sandwich West soccer field.

July 9, 2009 Paula Trotter

 The Windsor Star.



"Riding The Wind" with 4 line stunt kite at Riverside drive.

Oct 7, 2008 Scott Webster The Windsor Star "Uplifting Way To Pass The Time".



3m² trainer foil at Detroit River shore.

Jan 27, 2001 Windsor Star photographer; Dan Janisse.



"Living History" Dale Molnar Windsor Star reporting on the historical designation of the Kathleen Henderson House.

1982 Town of Sandwich News, Lisa Priest "determined to prove they're better than their reputation".



William Hands Secondary School Restaurant Service class.

newspaper articles of family members


Harry Janssen 1970 chef at Mario's of Windsor and 1977 Essex Golf & Country Club.
Diette Janssen 1994 Kitchener Record "School of Performing Arts", 1985 Christmas at Guelph museum, Mummer celebration.



Len Janssen "Thank You" to construction workers who built the Casino Windsor.
Leona Janssen 1970 Naval Cadet summer program.



Marie Palmer and Kara Calis K&M Lampworks; 2009 front page.
Marie José business opening, Essex County potters and Windsor Weavers.

Diana Hupchuk - Verheul "Family survived War in Holland" arrest of her father, emigration to Canada.

Micheal Hargreaves meets with Mayor Eddie Francis to discuss teen options 2005.
Micheal's band "Michou"; 2007/8 Medea and Myshkin CD reviews and interviews.

Oliver Ellwood, Harold Huntley


World War 2 Canadian military newspaper articles.

Darrell Ellwood Kingsville and Windsor Firefighter "Born To Fight Fires". December 25, 2011

---

TheoJanssen.ca home 2021

---